These smoky Mediterranean Lamb Burgers are smothered with creamy whipped feta and stacked high with thinly sliced cucumbers, garden tomatoes, red onions and green leaf lettuce, for a mouth watering flavor combination that will leave you wanting seconds. Say goodbye to your basic burger. This my friends is what I like to call adulting. Enjoy!
We go back school this month. Cue the tears, this mama is NOT ready. I'm holding on tight to the last few days of summer with everything I've got. It dawned on me this morning that we only have 10 summers left with our youngest at home. TEN! I'm squeezing in all the pool days, popsicles and BBQ's that we possibly can.
We grill at least three times a week and you can always count on a new and delicious burger recipe on the menu. Whether it's my husband or myself behind the grill, burgers are both of our BBQ specialties. This week we made Mediterranean Lamb Burgers with the most delicious ground American Lamb, smoked on our Traeger grill, with a rich and creamy whipped feta spread and ALL the fixins. One word WOW.
If you are a fan of classic Mediterranean flavors, this burger was made just for you! It teases with the classics but takes an unexpected spin with a few surprising ingredients!
Mediterranean Lamb Burgers Ingredients
Lamb has such a unique flavor that when paired with too many seasonings and spices can quickly lose its character. I like to keep my burgers somewhat simple but also like to throw in surprising pops of flavor to trick the taste buds.
Do you want to know the secret ingredient in this recipe? Olive tapenade… which if you're unfamiliar, is a blend of ground olives, roasted red pepper and garlic. You can find it pre-made at most specialty grocery stores. The tapenade lends a rich and salty flavor that pairs beautifully with the freshly chopped mint, rosemary and garlic. It also gives the burgers some delicious added texture with every bite!
Tips for making the best grilled lamb burgers
We have become loyal Traeger grill fans over the past several years. In fact, our charcoal grill has now become a housing unit for our Traeger pellets. Whoops. I used to be so intimidated using our grill in the past, but learned quickly that if you can use an oven, you can use Traeger grill. It is beyond easy and functional. Traeger fan for life over here!
I've learned a few burger tips along the way when using the Traeger, here are my top five…
Your pellets play an important role in the overall flavor, so pair your flavors with intention. For lamb, I like to use cherry or hickory pellets.
Oil your grill grates to keep the patties from sticking.
High temperature is key. Typically, that is between 400-450 depending on your Traeger grill model. You want to be able to sear your patty and seal in all those flavors and juices.
Don't over work your meat when mixing together your ingredients.
Oversize your patties. I always make sure my patties are wider than my bun as they shrink when cooking.
Use your thumb to make indentations in your patties prior to cooking. This step allows them to keep their shape, so they stay flat and don't inflate.
Refrigerate your patties for an hour or up to two todays before cooking, this will allow for a sturdier patty.
Have patience and don't lift the lid. You want to trap in that smoke to enhance the flavor. Lifting the lid will releases it before your burger has had time to seal in all that smoky goodness.
Only flip once. Allowing a crust to form on the bottom, this takes at least 3-4 minutes. Flip and allow for a crust to form again.
Use an instant read thermometer to check for doneness. Cutting your patties will release all those hard earned juices.
You could also cook these on the stovetop in a cast iron pan or over an open flame. However you get your grill on, will yield a delicious result!
Once you're patties are ready to pull off the grill, quickly butter and toast your buns. Transfer patties to the bun and top with lettuce, cucumber, tomato, red onion a generous serving of whipped feta. Devour!!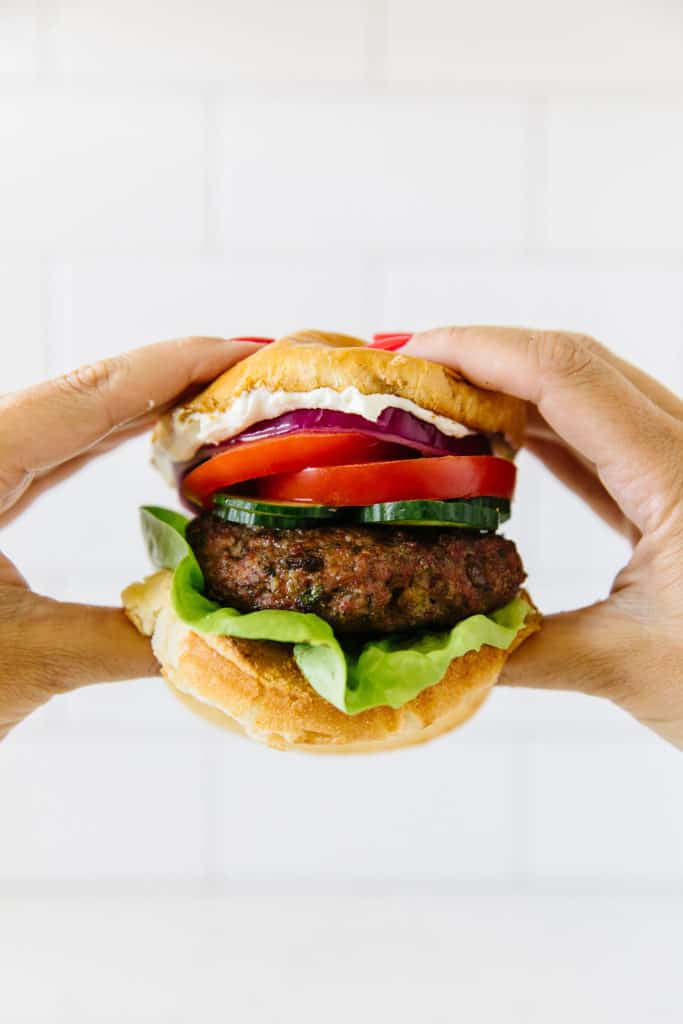 How to make whipped feta
Now watch me whip whip… my feta.
You GUYS!! How have I never made whipped feta before? I'm obsessed. I have put it on everything from wraps to grilled veggies and have yet to be disappointed. Turns out when you whip cream cheese and feta with a splash of lemon, MAGIC happens! My entire family is on board, and they aren't huge feta fans. Let's just say my mayo has made its way to the back of the fridge and I don't see it resurfacing anytime soon. Welcome to the family whipped feta.
Why choose American Lamb
Not only is lamb delicious and full of flavor, but it packs a pretty impressive nutritional punch! Lamb is an excellent source of B12, niacin, zinc and selenium. A 3 ounce serving of lamb provides nearly five times the essential omega-3 fatty acids and alpha linoleic acid of a 3-ounce serving of beef. It's a a responsible choice you can feel good about enjoying.
Plus using American lamb means you are supporting local family farmers and ranchers. Did you know there are over 80,000 family-owned sheep farms and ranches in the United States and lamb is produced in every state? Eating locally sourced ingredients is something I am becoming more and more passionate about, especially when it comes to our source of protein. Quality counts friends.
Support your local lamb growers by asking your butcher if they sell American lamb or visit americanlamb.com for recommendations. I pick mine up at my local Harmon's grocery.
Giveaway
Right now, The American Lamb Board is giving away three $500 gift cards, one to Target, one to REI and one to Lululemon. You can click here and vote for your favorite summer Lambventures party. Are you more of a patio party planner (Target), outdoor adventurer (REI) or a fit foodie (Lululemon)? I most definitely loved all of the fit foodie categories!! Praying to the Lululemon Gods!! Go vote right now and good Luck!!
Print
Mediterranean Lamb Burgers with Whipped Feta
Ingredients
Lamb burger
1

pound

ground American Lamb

1/4

cup

panko bread crumbs

1

egg

1/8

cup

chopped fresh parsley

1/2

tbsp

chopped fresh mint

2

cloves

garlic, minced

2

tbsp

olive tapenade, premade

1/2

tbsp

marjoram

1/2

tbsp

rosemary

1

tsp

kosher salt

1/4

tsp

ground black pepper
Toppings
1

medium

cucumber, thinly sliced

1/2

red onion, thinly sliced

3

medium

tomatoes, sliced

1

head

green leaf lettuce

4

brioche hamburger buns, toasted
Whipped Feta
4

ounces

cream cheese, softened at room temperature

6

ounces

crumbled feta

1

tbsp

fresh lemon juice
Instructions
Set Traeger to high (450 degrees) with lid up. Once smoking, close the lid and allow to pre-heat. About 15 minutes.

While the grill is pre-heating prepare your meat mixture and prep your toppings.

Add the ground lamb and the rest of the burger ingredients to a large mixing bowl. Mix with your hands, being careful not to over work the meat mixture.

Once well mixed, form mixture into four patties and press your thumb into the center of each. Set aside.

Wash and slice your toppings and prepare whipped feta. Set aside.

Place the burgers on the grill and cook until a crust forms, about 3-4 minutes per side for medium-rare, or about 5 minutes per side for well done. Only flipping once.

Transfer burgers to a plate to rest for 5 minutes before serving.

Place burgers on buns and top with a generous smear of whipped feta.

Layer lettuce, cucumbers, tomatoes and onions. Serve immediately. Enjoy!
Whipped Feta
Add all ingredients to a food processor and process until smooth. Smother on anything and everything. Enjoy!
Here's an image to pin so you can easily save this recipe for later!
This is a sponsored conversation written by me in partnership with the American Lamb board. All opinions expressed are my own.