Is there one special meal that you make that guarantees a crowd at your dinner table? For me it's Hawaiian haystacks hands down. They aren't fancy or at all gourmet but my whole family absolutely LOVES them! So we eat them often because I absolutely LOVE a table full of my favorite humans.
Growing up it was just my mom and I. We didn't see our extended family much other than during the holidays as they lived in different states. I always looked forward to sitting around my grandmother's large oval table surrounded by family during the holidays. I craved it as an only child.
Yes I said only child. Gasp. They do exist. Hiiii.
My grandmother would set the dinner table the same each year. Complete with a beautiful blend of mix matched china from all of her travels, hand crocheted pot holders and antique silverware. Every piece had a story and she told them repeatedly, yet they never got old. I looked forward to our oval table gatherings every year. I remember after she passed packing up her things, with each piece I could still hear her voice telling a story. These memories I will cherish forever.
Size doesn't matter
Even though most nights it was just two of us, my mom always made sure we sat sat at the dinner table. It was was our time to chat about our day and go over plans and schedules for the week. I knew when I became a mother this tradition would carry on.
In today's fast paced world we don't seem to make time for family dinners like we used to. We are constantly rushing from one thing to the next, shuffling kids to and from school and extracurricular activities. Most nights swinging through the drive through would be one hundred times easier that throwing together a home cooked meal. Trust me, I get it. It can be hard to get everyone around the dinner table every single night at the exact same time with so many schedules. Impossible really. So, we compromise at our house. Every Monday without fail, we have family dinner. It's mandatory. We make sure to not schedule extracurricular activities and know there is always a standing date. I prepare a meal they request and we unplug and enjoy each other's company. It's easily my favorite part of the week.
Do you prefer home cooked meals over take out?
I'm a firm believer in home cooked meals. While we may not always sit at the dinner table, we do eat from home 6 days out of 7 for dinner. Sometimes that means we are eating in the car on paper plates, other nights its just a few of us sitting around the kitchen bar. The food is made with love and whole foods but it's by no means Pinterest worthy. I learned a long time ago that simple wins. It doesn't need to be fancy, just fresh healthy whole ingredients.
Knowing my family is eating nutritious well-balanced meals at home is so important to me. I can't always control what they eat while they are out, so making healthy meals available at home is key. I hope with these mealtime values they are more likely to make wiser food choices on their own.
Any chance I can get my kids in the kitchen to help with dinner I do. My youngest has quickly become quite the little foodie. She loves to help me cook and create and when she participates I'm always shocked at how much she eats. So to all my picky eater mamas out there, be patient, stay consistent and get your littles in the kitchen with you!
Hawaiian Haystacks are the perfect mix of comfort food and health food making them a guaranteed crowd pleaser. Made with a creamy chicken gravy from scratch, over a bed of whole grain brown rice and topped with loads of fresh fruits and vegetables, your whole family will be licking their plates and you'll be patting yourself on the back!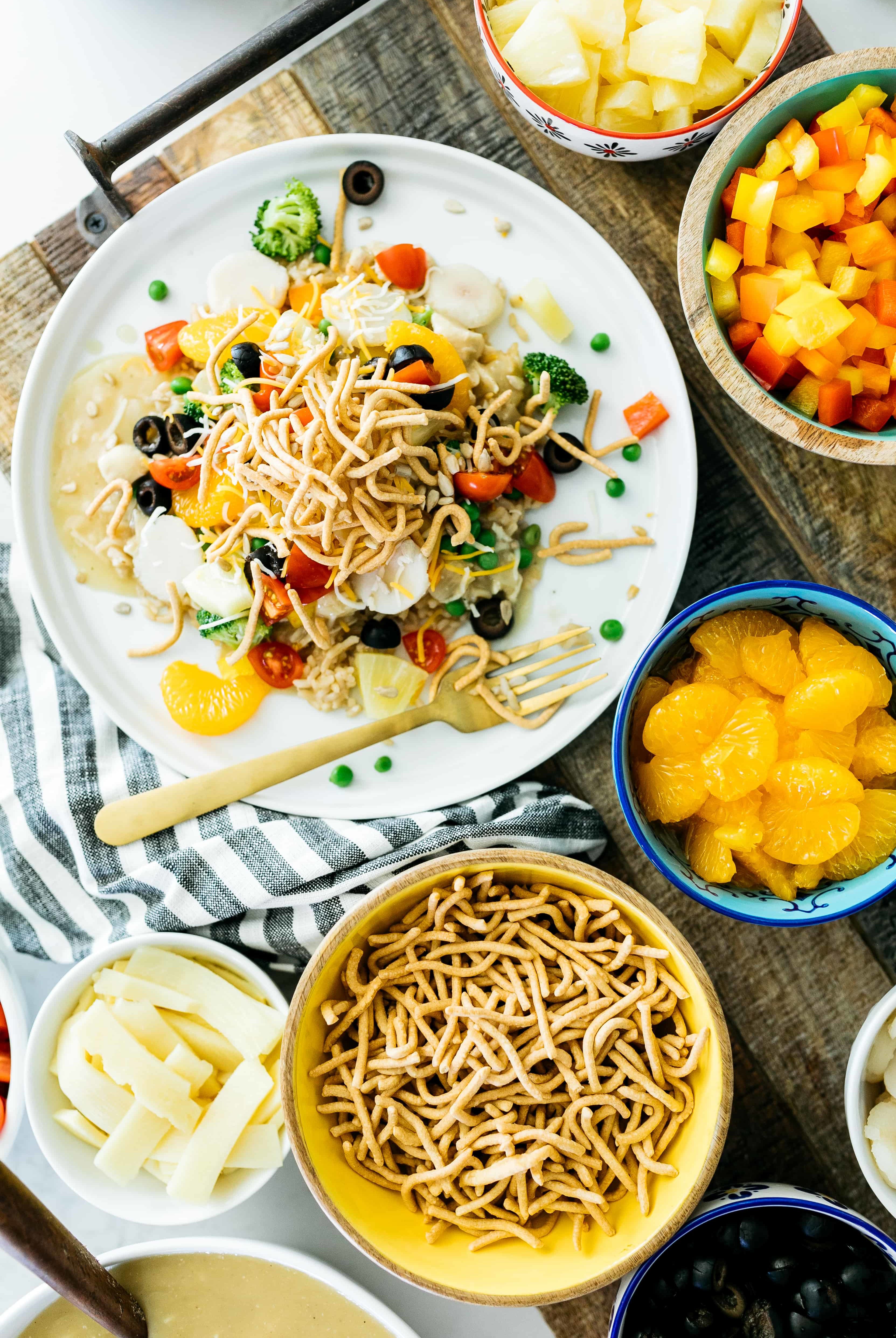 Do you ROUX?
I loved to cook with my mom in the kitchen growing up. One of the first things she taught me was how to master a roux. A roux is a combination of flour and fat which is commonly used as a thickening agent. Roux will open up a world of recipe possibilities for you. The rules are simple.
fat + flour
1:1 ratio (although some prefer 1:2)
liquid of choice
To make a roux, start by bringing your sauce pan to medium heat, add your fat. I like to use butter, but any other type of oil will work as well. Once the butter is melted, slowly sprinkle in the flour, whisking well to avoid any clumps. I've used both white and wheat flour and both work equally well. The mixture is then cooked, releasing the starches from the flour and removing the raw floury taste, until the flour has a toasted aroma, about 5-7 minutes. The longer you cook, the darker your roux. For this recipe we will be using a blonde, or light roux. Once cooked the roux should be used immediately.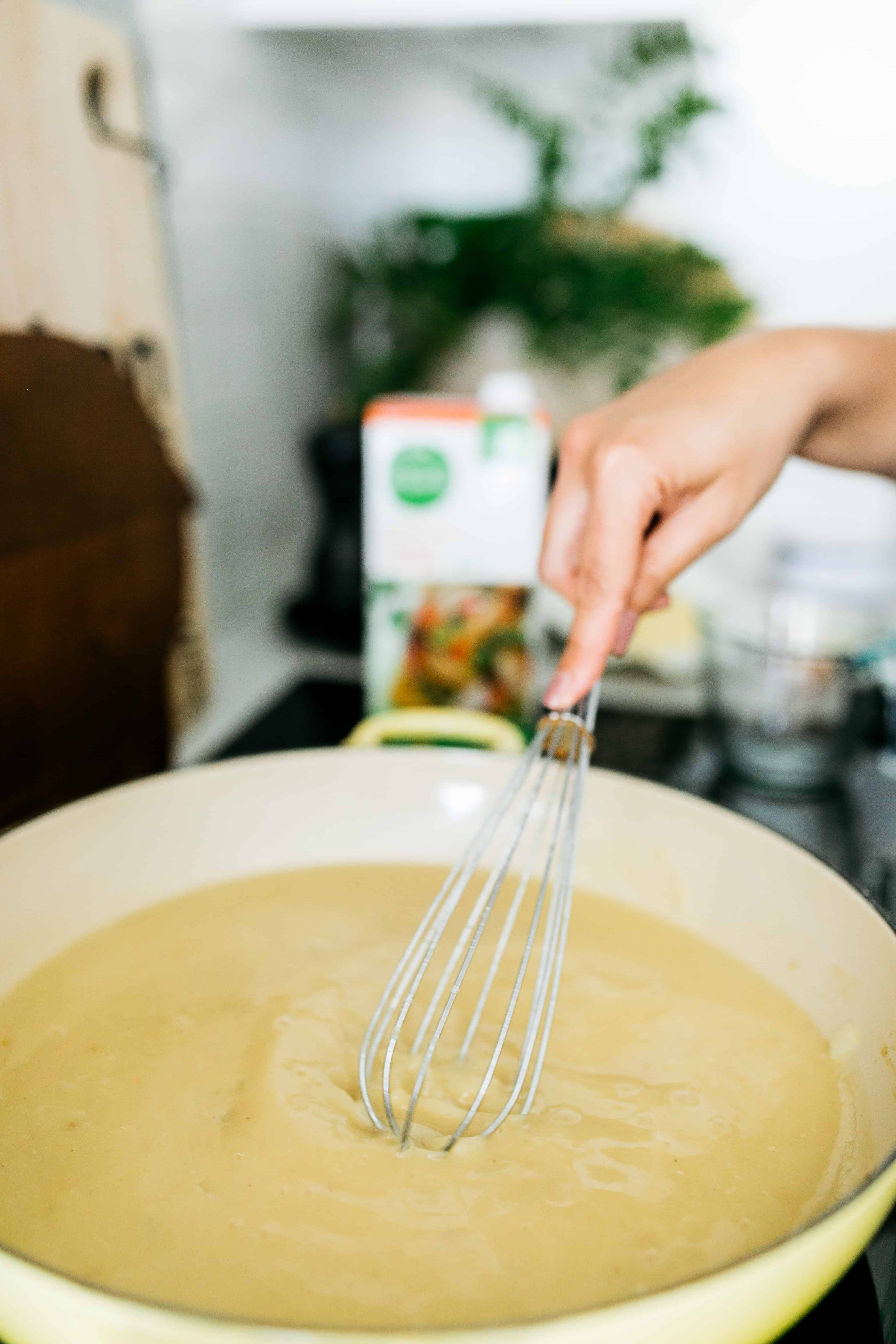 Once the roux is ready, slowly add in your chicken stock, coconut milk, gravy mix and seasonings over medium heat. You won't find any condensed cream of soups in here, just whole food ingredients you'll feel good about feeding your family. Cook until you've reached your desired thickness. Remember it will thicken upon standing so always lean to the thinner side. From there add your diced chicken, that's it. You have now completed the cooking portion of this recipe. Easy right?
TOPPINGS TOPPINGS TOPPINGS
We like to clean out our fridge on Hawaiian haystack night. Not only is this an excellent way to utilize leftovers, but I will guarantee your kids will fill their tummies with more veggies than normal! Anything goes so get creative. Here are some of our families favorites:
pineapple
black olives
green onion
petite peas
coconut flakes
baby corn
water chestnuts
bamboo shoots
steamed broccoli
sliced mushrooms
chow mein noodles
tomatoes
mandarin oranges
shredded cheese
My kids used to call these chicken sundaes with all the toppings. I mean it makes sense, give me allll the toppings!! There is no wrong way to top your stack, just don't leave off the chow mein noodles, they add a salty crunchy dimension you don't want to miss. Enjoy!
Family meals month
Did you know September is family meals month? Studies show that frequent family meals, are linked with positive outcomes. If your goal is create healthier family meals at home, September is your month to get started! The goal this month at Kroger is to share ONE more meal than usual with your family per week. Are you up for the challenge? Put these Hawaiian Haystacks on your next family dinner night menu and report back.
If you are in need of some more family dinner recipe inspo, here area few of our favorites!
Print
Healthy Hawaiian Haystacks
Instructions
Add 1/2 cup chicken stock to the instant pot.

Add chicken breasts and sprinkle with garlic powder. Set to manual and cook for 15 minutes.

Allow for a natural release, about 12 minutes at rest.

Remove chicken and reserve remaining broth, there should be about 1 cup.

Dice chicken into 1 inch chunks and set aside.

In a large sauté pan heat butter over medium heat until melted.

Add onion and sauté until translucent.

Add garlic and sauté until fragrant.

Sprinkle flour over butter mixture and whisk quickly to dissolve any lumps, forming a roux. Cook for 5-7 minutes or until fragrant, roux should smell nutty and no longer floury. 

Slowly add the reserved 1 cup stock plus an additional 2 cups chicken stock to roux, whisking well until smooth.

Add gravy packets and remaining 1 1/2 cups chicken stock slowly, until desired thickness is reached. 

Add coconut milk and diced chicken, Stir.

Salt and pepper to taste. 

Serve over rice with your choice of toppings. Our favorites are olives, pineapple, peas, chow mein noodles, shredded cheese and tomatoes. Enjoy!
Recipe Notes
while your chicken is cooking prepare all of your toppings and set in individual bowls. 
you could also use a rotisserie chicken if you're in a hurry.
*To make this recipe DAIRY FREE use olive oil or earth balance spread instead of butter.
This is a sponsored conversation written by me on behalf of Kroger. The opinions and text are all mine.