We recently returned from a week long family vacation in Southern California! We spent three of those days in Disneyland and the others exploring three different beaches along PCH plus a day at American Girl Place at the Grove in LA! Such a great trip and I was so happy to have all of my kiddos along for the ride! Its hard to balance teenagers schedules these days! But we did it! Barely.
Park Savers Saved Us
We planned our Disneyland vacation with Park Savers and got an AMAZING discount on our hotel and theme park tickets! It was beyond easy and we absolutely loved working with them. We booked online about three weeks in advance and printed our tickets at home. On Disney day 1 we simply brought our printed tickets to the ticket booth outside the main gates and were issued hard copies! One extra step that saved us a bundle! Thank you Park Savers!
We stayed at the Hyatt Place Anaheim (a Park Savers recommendation) and LOVED it!! It was a short 15 minute walk to the park… or you could take a shuttle for an additional fee. The walk in the morning was nice and the crisp air was refreshing after breakfast. The walk home on the other hand, was exhausting and seemed like 100 plus miles after a 14 hour day. I recommend walking there and shuttling back. That's what our teenagers did. Not so easy with a stroller. Note to self. But we burned off all the late night treats we enjoyed, so it was fine.
I always look for a hotel with breakfast included when we travel. We did pay a little extra for our room (specialty two queen suite) compared to surrounding hotels but it was well worth it not to have to fight for a table at a busy chain restaurant at the crack of dawn. We had a kitchenette with a microwave and mini fridge to organize all our snacks from home and the breakfast was delicious! They had a full breakfast buffet every morning with hot eggs– each day was a different scramble, sausage or bacon, french toast or pancakes, an oatmeal bar, fresh fruit and greek yogurt, cottage cheese, pasteries and a cold cereal bar with fresh juices. It was impressive and kept us all full until lunch!
I did my research before leaving and scoped out all the park eats on the Disneyland app. It listed each restaurant and its menu along with character sightings, ride wait times, bathroom locations, shopping and a whole lot more! Not sure we'll ever do Disney without it! I highly recommend downloading it before your next visit. It is AWESOME!
Okay lets talk food– that's why you're really here. Eating in Disneyland isn't a problem, there is food on every corner and in between. Lots and lots of delicious food!! Now eating healthy is another story. For some Disney is a day to treat yourself and I am all about that life! Treat yo self! It's important and you should enjoy it!. Unfortunately for some of us, myself included food allergies and sensitivities limit those treats and we need options. So… options I have found for you!! I'm going to list my top picks by LAND to make it easier. Starting with my favorite…
ADVENTURELAND
1. BENGAL BBQ— Across from Indian Jones. Best clean eats in the park in my opinion. We ate here 3 times. I loved the beef and chicken skewers sans sauce + veggie skewers + the bacon wrapped asparagus. My kids loved the tiger tails as a side, which are just bread sticks with parmesan cheese on top. They helped fill them up too. Grab a fast pass for Indian Jones and sit down and enjoy lunch while you wait!
 Clean Eats & Healthy Food in Disneyland by Clean Eats & Treats
2. TROPICAL IMPORTS— Next to the Jungle Cruise. Offers a variety of healthy snacks and fresh fruit. Mango and pineapple spears (make sure to grab a packet of tajin seasoning at the register for both) grapes, pickles, pretzels and hummus dip, veggies with ranch and my kids favorite Mickey apple crisps! Grab a snack and enjoy it while waiting in line to see Jasmine, Genie and Aladdin just next door!
 Clean Eats & Healthy Food in Disneyland by Clean Eats & Treats
TREAT YOURSELF with a Dole Whip from the TIKI JUICE BAR.
FRONTIERLAND
1. RIVER BELLE TERRACE— Across from Tom Sawyer Island is a sit down restaurant with a charming view. Make sure to make a reservation. I ordered the River Belle's Chopped Salad with romaine lettuce, black beans, garbanzo beans, pickles, roasted corn, red bell pepper, lemons, tomatoes and a side of the juiciest roasted chicken. It was delicious! My whole family loved the menu. The Pulled Pork Sandwich was a hit with the hubby, my toddler had The Mickey Check Meal with roasted chicken and my teens gobbled up the Fried Chicken Sandwich and Spare Ribs. Really generous servings too!
TREAT YOURSELF with an order of Fried Cheesecake while you're there!
RANCHO DEL ZOCALO— Next to the entrance of Big Thunder Mountain features south of the border specialties! I love the Baked Fish Tacos sans the ranch, add lime and sub a salad instead of the rice and beans. I eat mine open face right out of the tortilla! We ate here after dark and my pic was terrible but be sure to TRY IT!! You can also fill up your water bottles with ice and water for FREE here! We took our 40 oz Hydroflask bottles and they were a lifesaver! Kept our ice frozen all day long! There is nothing worse than luke warm water or overpriced water bottles at Disney!
NEW ORLEANS SQUARE
1. CAFE ORLEANS— The Crescent City salad with pan seared salmon caught my attention or try the New Orleans Gumbo for a hearty meal!
TREAT YOURSELF with a Mint Julep and Mickey shaped Beignet from THE MINT JULEP BAR.
CRITTER COUNTRY
1. CRITTER COUNTRY FRUIT CART— fresh fruit and healthy snacks.
2. HARBOR GALLEY— Kids "Power Packs" string cheese, yogurt, apples and crackers.
***Keep your eyes peeled for Mickey Check Meals throughout the park. They offer complete meals for children, with an entree, at least one side, a dessert, and either lowfat milk or a small Dasani water. Most of the entrees are grilled, baked, or seared. Chicken, fish, turkey, and pasta are often the choices. The side will most likely be a vegetable, and the dessert some type of fresh fruit. All low in saturated fat, sodium and sugar meeting Disney nutrition guidelines. Go Disney! Now if you could offer an adult version that would be fabulous. Maybe in 2017?
TREAT YOURSELF with a Churro by Splash Mountain!
FANTASYLAND
1. EDELWEISS SNACKS— next to the Matterhorn is home of the famous Turkey Leg and chili lime corn! Both are great to eat on the go!
TREAT YOURSELF with a Boysen Apple Freeze with a touch of boysenberry syrup and passionfruit foam! So much yum! Next to the Royal Theatre at MAURICES TREATS. My girls loved these!
TOMORROWLAND
1. REDD ROCKETS PIZZA PORT— We didn't actually eat here but I found some clean options off the menu for you! The Planetary Pizza salad or the Starfield of Greens salad add grilled chicken would both be great options. They also offer a vegetarian pizza, by the slice or whole pizza and a vegetarian pasta option, the Forest of Endor. I especially love that you can fill up your water bottles with ice and water for FREE here too!
MAIN STREET U.S.A
Not many clean and healthy options here other than another fruit cart but if you're wanting a treat… this is your destination!
1.. MARKET HOUSE— across from the Carnation Cafe does offer Starbucks and I was able to order my usual- an Iced Green Tea with no classic syrup. LIFE SAVER in Disney!
TREAT YOURSELF with a Chocolate Dipped Pineapple Spear from THE CANDY PALACE and pull up a spot on sidewalk outside to enjoy it while you watch the parade. I did and it was worth every bite!
CALIFORNIA ADVENTURE
1. ARIELS GROTTO— We gave our five year old the option to eat lunch with princesses or breakfast with Minnie and Mickey. Royalty won and we were SO glad! The menu was pricey but the food was amazing! She got to dance, hug, pose and collect autographs from six of her favorite princesses and that alone was worth every Disney cent. We ate here a few years ago and the menu has improved a ton! I had the Lobster Tail Salad with mixed greens, hickory smoked bacon, avocado, tomato, quail egg, and house vinaigrette. My husband had the Smoked Honey Whiskey BBQ Tri-Tip with mashed potatoes and seasoned veggies and my five year old had angel hair pasta with marinara ala dinglehopper! My teenagers opted out and enjoyed a quick meal on the pier and three trips aboard California screamin! We sat outside and watched the coaster. The view and ambience were a bonus. The whole experience was a major highlight of our visit. Make reservations in advance for this one, it's popular amongst mini princesses visiting the park!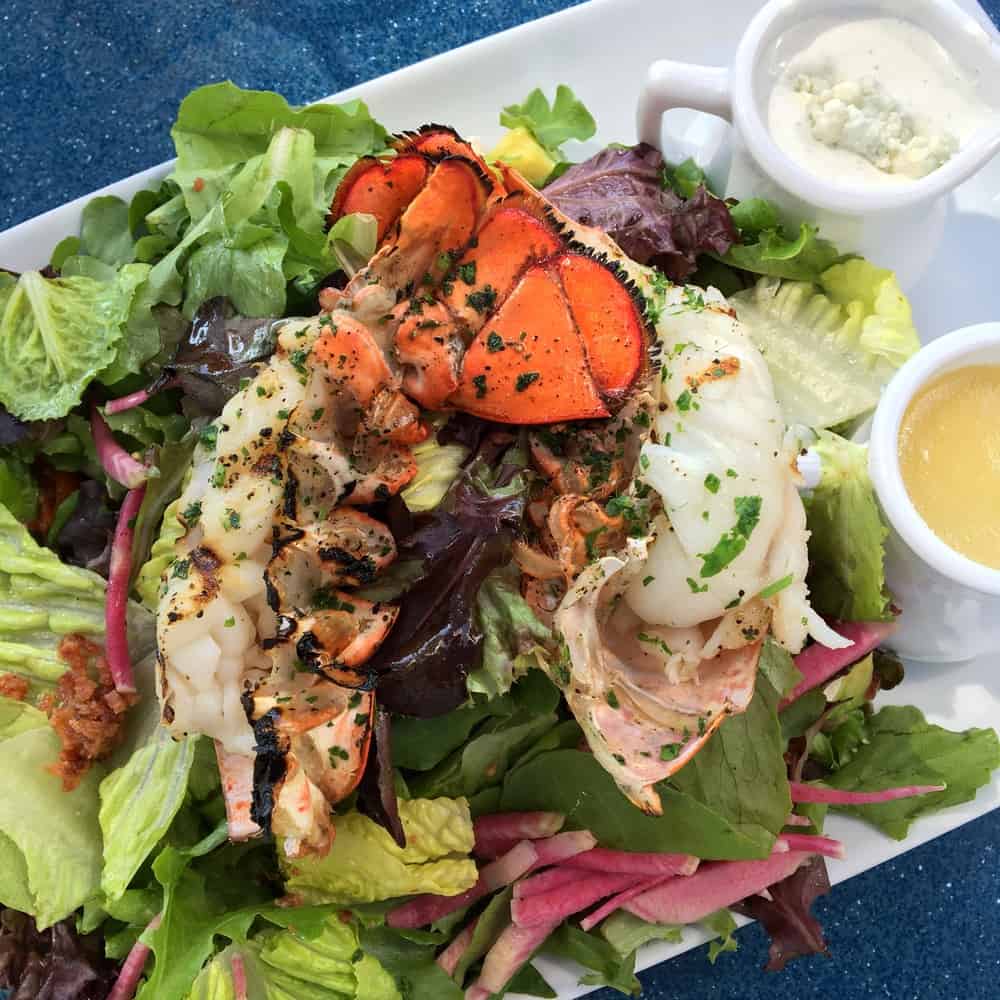 2. PARADISE GARDEN GRILL— Just down yander at the end of the boardwalk, next to Goofy's Sky School, and tucked back a bit. Lots of outdoor seating and quick service. Both the Lemon Oregano Chicken Skewer and Grilled Steak skewer were tasty! The Gyro Platters looked yummy too and easily eaten open faced.
3. PACIFIC WHARF CAFE— Located on the pier with a fun view of the local resident ducks. They enjoyed our bread and we enjoyed the entertainment! I ordered the Chicken, Apple and Walnut salad with the dressing on the side and enjoyed a Gluten Free brownie for my treat that day! Everyone else opted for clam chowder in bread bowls per tradition! Their sourdough is out of this world! Don't skip it!
4. SCHMOOZIES— Located in Hollywoodland right on the corner across from Ana and Elsa's Royal Welcome and Animation Academy. Serves yogurt and fresh fruit smoothies. Large enough for a meal but most definitely a treat!
5. FAIRFAX MARKET– Right next door to Schmoozies offers healthy snacks and fresh fruits.
6. CLARABELLES— located on Buena Vista Street has hand scooped ice cream with a No Sugar Added Butter Pecan option and it's delicious!
TREAT MEAL one must experience the Lobster Nachos and Cotton Candy Lemonade at the COVE BAR! My husband is still talking about this meal!
TREAT YOURSELF with a Chocolate Dipped Banana outside the Smoke Jumpers Grill across from Soarin Over California. Fruit and nuts are a good combo alone but the chocolate swoops in for the win!
If you're looking for finer dining visit CARTHAY CIRCLE for their Ceviche of Citrus Cobia and Blue Crab Lettuce Cups or WINE COUNTRY TRATTORIA for amazing made to order pasta and sustainable fish with Citrus Pesto! Best for a date night, neither are very kid friendly.
DOWNTOWN DISNEY
1. TORTILLA JOE'S— This is our go-to when in Disney. Its a nice break from the park too. The table side guac will steal the show but the Trio Fajitas are also a favorite! I like to eat mine paleo and skip the rice, beans and tortillas. Make a reservation in advance, its always packed!
OUTSIDE THE PARK
1. PANERA— Across the street and down a block or so from the entrance. Lots of healthy soups, salads and sandwiches to choose from!
TREAT YOURSELF on your walk home at CREAMISTRY– they offer a delicious dairy free coconut ice cream and its freaking AMAZING!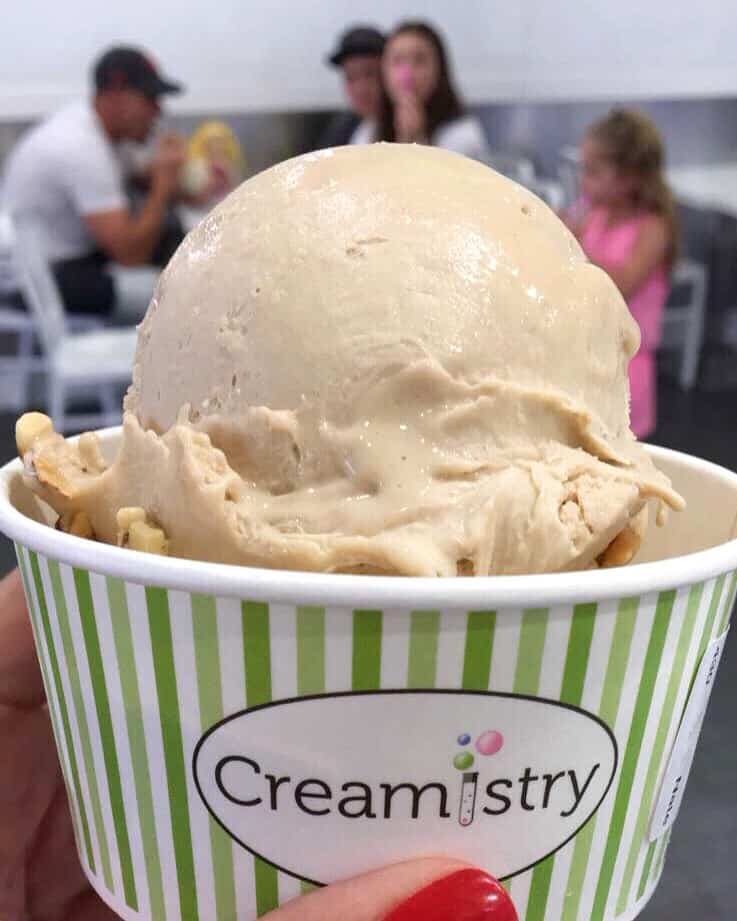 A FEW DISNEYLAND TIPS…
1. Wear good shoes. I wore these all three days after packing two other pairs. These won. ALWAYS.
2. Bring a reusable water bottle. We used these.
3. Pack a stroller. Regardless or your kids ages ha… if only to tote around all your crap.
4. Bring your own snacks. Lots of them. Our top picks… RXBARS, string cheese, nuts, fresh and dried fruit, granola bars and by my teenagers request… uncrustables. The boy eats 12 meals a day so I was ok with this. They kept him full and happy. Pick your battles right?
5. Bring a back pack… for your snacks and things. I brought my Fawn Design bag and had people stopping me left and right to get their hands on one. It was basically made for Disney. Waterproof and full of storage. Plus super stylish! Get one.
6. Eat like you're NOT on vacation. Stick to your healthy habits as much as possible.
7. Avoid most if not all foods that are Mickey shaped. Sadly. They don't make the clean eats list. They do however make a good treat.
8. Allow everyone ONE special treat a day. This was perfect because not only did it limit the junk but it also saved us a ton of money!
9. It's not all about the food. It can be but instead try making it more about togetherness and the quality time you're having. That's what I focused on and it made it so much more memorable and easy to forget the air smells like churros.
10. Have fun! Relax! Don't stress! You're in Disneyland!!! It's the happiest place on earth!! Truly.
I hope I've given you enough Clean Eats in Disney options here! We sure had fun eating our way through the park! Its a rough life but somebody had to do it. I'm your girl. The best part is, my hubby and I both came home and had lost weight! Apparently walking for 14 hours straight will burn every single calorie you consume!! Who knew.
Did I miss something? Leave your comments and suggestions below so I can start planning my next trip! Happy Clean Eats in Disney-ing friends!
Xoxo,
Shannon