I am so excited to FINALLY take you inside our newly remodeled Clean Eats white kitchen! After NINE months in the making and a few headaches (literally) later we are finished! I never thought I'd be able to say that.
When we decided to renovate our home rather than rebuild, we knew the first thing to update would be our kitchen. It is in fact the heart of our home, my office and where we spend most of our time together. A larger more functional kitchen has been on our wishlist for years. We practically had it designed before we even started. White and bright but still warm and inviting were musts. I think we nailed it.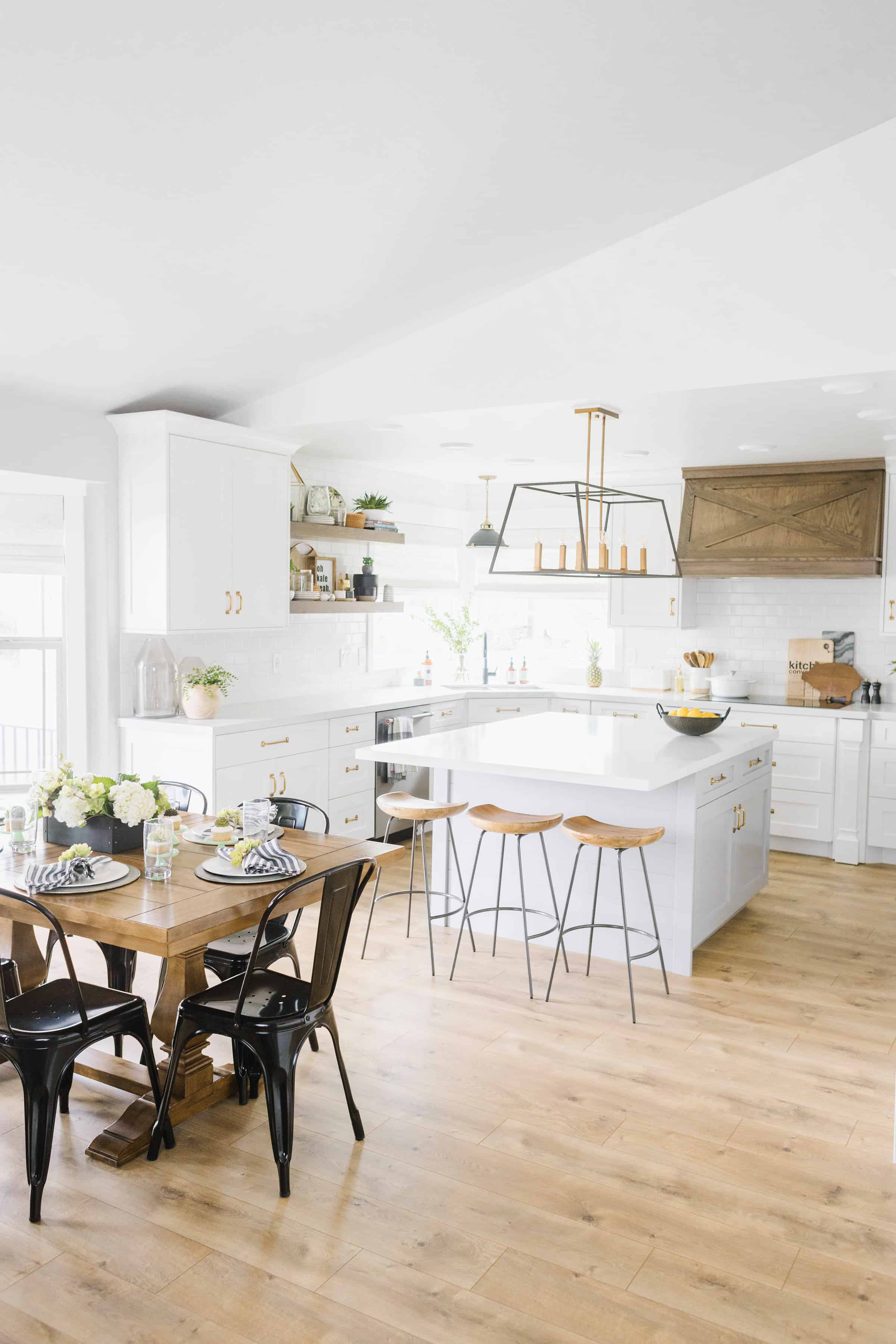 We have officially broken in this space with lots of spills, stains and elbow grease! Literally, two out of three of my kids had the stomach flu the week it completed… let's just say it was baptized with regurgitated orange juice… times two. TMI? Honestly, I wouldn't have it any other way. This is real life. Our life. It's messy, crazy and PERFECTLY imperfect. The pictures are pretty but please note we live here, the counters are now covered in kid clutter and I can't even count how many fingerprints are covering the stainless.
Again, exactly how I like it.
Making memories in the kitchen with my people is what I live for! I wish you all could join us around the dinner table tonight! Someday I hope to host an epic dinner party and you'll all be invited! Until then, here's a few pics of our space to share! Welcome to our home!
Bar stools | Kitchen chairs | Table (similar)
Farmhouse White Kitchen DESIGN
I consider myself to have a fairly decent eye when it comes to design, however I lack commitment. I can't decide on finishes to save my life. When this project began, I knew I was going to need help! I immediately knew this project required the design eye of Lindy Allen and her team at 4-chairs furniture. I've been following her design feed for years and told myself when it came time to renovate our home, she would be my first phone call. I knew I called the right gal after our first design meeting! I mean just look at this space!!
Shelves | Hardware | Decor here and here | Tile
Farmhouse WHITE KITCHEN CABINETS
We knew when we first sat down to plan the reno, our old cabinets were completely coming out. This was our biggest expense. Since my husband was doing 80% of the remodel work himself, we were prepared to invest a large chunk of the budget here. We shopped around A LOT before we found Selah Craft & Design. I was so impressed with their willingness to accommodate our wants and needs as well as their fair prices. Their craftsmanship is incredible and the attention to detail unmatched. They aren't full European like we had hoped because #budget but rather a face frame full overly and WE LOVE THEM!! Selah did a fabulous job and we couldn't be happier with the finished product!
Our cabinet color is white dove by Benjamin Moore and the contrasting island color is storm grey also by Benjamin Moore. Our wood stain on the open shelving and range hood is custom by Selah on white oak. I fell in love with the grain pattern of the white oak. It isn't as trendy right now but to me it's classic and timeless.
Farmhouse White kitchen UPGRADES
The cabinet hardware was tricky to convince the hubs to splurge on but it's the first thing people notice. He wasn't excited about installing it with the four exposed screws but we made it work. Barely. He created a template that sped up the process thankfully. The screws that came in the packaging were too short. We had to purchase longer screws and couldn't get the finish to match. Who remembers his pyromaniac moment on IG stories? Did you know dousing brass in baby oil and lighting it on fire antiques the finish? Me either. But it does.
I think I had the most fun browsing through the Rev-a-Shelf catalog. There are SO many options to upgrade your cabinets! An electronic garbage can was at the top of my wishlist. Just a tap of the knee and it opens automatically. Making cooking with dirty and wet hands a breeze. This is probably my favorite feature. Spice racks coming in a close second.
Farmhouse White kitchen details
Utensil holders and spice racks on either side of the cooking range have saved SO much drawer and cabinet space. Plus they're pretty to look at! You can take a deeper peak into our Clean Eats Pantry here.
Gorgeous Knork flatware.
A custom silverware drawer fully stocked with our favorite Knork titanium flatware and pull out drawer peg system under the cooktop for our non stick Le Creuset pots and pans have been so functional and convenient. For under $100 I highly recommend them both!
Whoever invented the appliance garage… PRAISE! Best thing to happen to our kitchen. All the clunky clutter now has it's own hidden space… complete with power outlets. You can find what's stocked inside on this post.
Farmhouse white kitchen APPLIANCES
We knew we wanted the look of high end appliances but needed to stick within our budget. Kitchen aid pulled trough with gorgeous sleek minimal appliances for a great price! I absolutely love the streamline look of the handles. I really appreciate beautiful design at a budget price.
Oven/Microwave combo | Fridge | Dishwasher | Cooktop
We decided to go with a induction cooktop after an impressive demo from our pals at Duerdens! Induction uses magnetic induction to heat, making it more energy efficient. It's cool to the touch (bonus with kids in the kitchen), cooks faster and loses less heat in process. There is a bit of a learning curve, but so far we are LOVING it!!
Farmhouse White kitchen LIGHTING
We had to move around quite a bit of lighting in the kitchen which meant a lot of holes in the ceiling. Rather than patching each and every one my husband decided to shiplap the ceiling (his idea) and I LOVE IT. Best hubby hack yet. It adds such a finished clean look. High five honey!
I knew exactly what I wanted style wise for lighting and when I sat down with Mendee from Lighting Design I immediately fell in love with the style that Hinkley Lighting offered. It's classic and trendy with just the right amount of industrial farmhouse! Our island light is my absolute favorite and it fits our space perfectly.
I went back and forth on the pendant above the sink but it's starting to grow on me more and more every day! Isn't it fun?
Pendant over sink | Sink |Faucet | Blinds
Farmhouse white kitchen TILE AND COUNTERTOPS
We worked with Jami Fry at Contempo Tile and she was fantastic! Do you have any idea how many shades of white tile there are? A LOT! She helped us find the perfect match to our cabinet paint color. We kept it simple with subway tile in snow white bright. My husband installed each and every piece to perfection. Some days his OCD really comes in handy!
Countertops are statuario maximus by Caesarstone and the are BEAUTIFUL! We also purchased from Contempo Tile. This might have been my husbands favorite field trip! The slab shop was incredible!
Farmhouse white kitchen WINDOW COVERINGS
I struggled finalizing blinds for this space. I wanted a natural look but also privacy. With the help of Mark at Select Blinds and a dozen samples later we found the most beautiful organic woven wood shade. The color is bali white and linked here. Select Blinds was fabulous to work with. We measured our windows ourselves and then placed our order online. They delivered quickly and the shades fit seamlessly. I'm so happy with how they look in our space!
Farmhouse white kitchen FLOORING
I really wanted white oak hardwood floors. But the more and more we chatted with salesman and friends who have them the more they talked us out of it! Probably for the best since we were tipping the scale of our budget by this point. After searching for months for the perfect option we stumbled upon this one by Mowhawk flooring. It's from their cottage villa line and the color is honeytone oak. They are EXACTLY what I was looking for and really bring this space together.
Okay longest post ever.
If you're still here.. thanks for hanging in there. I think I've listed sources on most everything we used throughout this post for you. Hopefully it's helpful. Feel free to leave questions in the comments and I will do my best to help you with additional info! Thanks again for stopping by and welcome to our Clean Eats white kitchen!
Xo,
Shannon